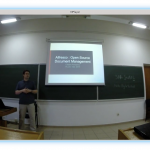 February 2014 RLUG meeting took place in POLITEHNICA University of Bucharest campus, Faculty of Automatic Control and Computer Science on Feb 13th.
Main topic for this workshop were "Groupware applications". There were three speakers :
 Mihai Bădici –  Kolab
Valentin Cozma –  Universal tool for business memory
Cătălin Porosnicu  – Alfresco: Open Source Document Management
TFM Group Software provided the live streaming solution. With this occasion we introduced our new streaming technology / hardware ( hardware encoder , better camera , lanyard microphones).
Presentations:
Kolab
Universal tool for business memory
Alfresco: Open Source Document Management